Known as the "Godfather of designer Toy", contemporary artist Michael Lau, from Hong Kong China, collaborates with DOE with a collection of his signature Artoy "Salvator Michael", along with a tour exhibition of the figure and sculpture in mainland China. It is also the first collaboration artwork for DOE with Chinese artist, aiming at delivering a modern Chinese image with a balanced mix of oriental philosophy and aesthetics.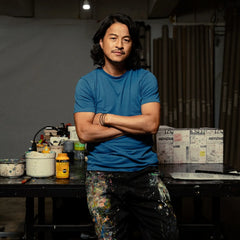 An art toy figure delivering DOE's brand philosophy with Michael's signature concept is a medium of voice and inspiration for all the local young generation, just like how Michael breaks the boundary between art & toy and presenting Chinese local artworks on the global stage.
About Salvator Michael DOE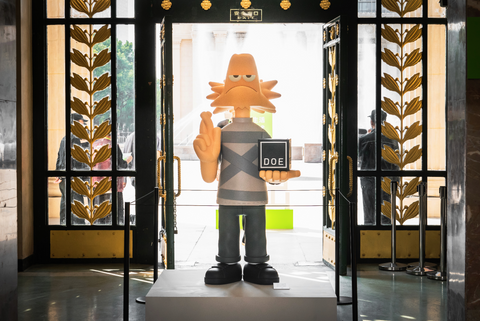 Inspired by the philosophy of DOE and the color palette as well as industrial flavor of its interior space, Salvator Michael DOE's iconic finger-crossed hand gesture remains as Michael wishes you the best of luck in finding your own attitude towards life, and in breaking existing boundaries.
Salvator Michael DOE is inspired from DOE's brand motto "Be Formless", with a color palette matching DOE's industrial retail decoration style as key visual impression. The two fingers- crossed right hand of Salvator Michael blesses collectors in their quest to Collect Them All, while the left handing holding a DOE cube instead of the previous gashapon capsule toy.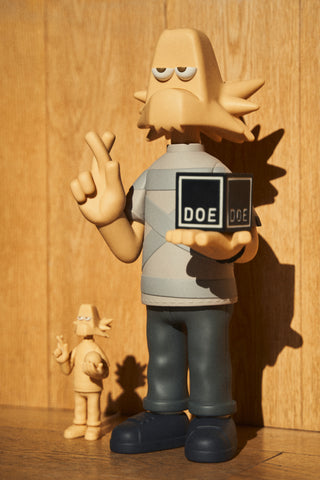 While the orb in the original design transforms to a black box shape standing for DOE square logo that symbolizes both infinite vast outer space and infinite deep inner space. The logo of 'DOE' has executed in a light sensitive coating to give a glowing effect under dark to align with DOE 2022 theme of 'light'.
The Godfather of urban vinyl who once forged new ground in pioneering toy as a new art form, contrary to usual pattern of a trend driving from west to east, leading the designer toy movement from east to west, influencing the whole designer toy scene worldwide. Through this work, Michael wishes to pass on his example and blessing to young creatives in China, to break new ground and to lead on our own!
Michael himself in recent years once again is breaking new ground to challenge conventions from the art world with work to support his vision: "All art are toys, all toys are art."
About the Salvator Michael DOE Artoy Launch Info


Artoy Figure
Size : 33 x 15 x 14cm : Vinyl Material Packaging : Wood box MOQ : 200pcs
Suggested Retail:  669 USD